The search is over
So you've been looking to find that perfect new home? You've scoured the newspapers and pounded the pavement of every display village within a fifty-kilometre radius but you still haven't found the home plan that is you. Well why not pay a visit to the best home builder in Melbourne's west?
At Mimosa Homes we operate under a different philosophy to other builders. Our points of difference are what will make your building experience a happy one and ensure your home puts a smile on your face from the day you first move in and long into the future. You see, here at Mimosa we don't consider your new home to be just bricks and mortar. We want you to be as happy with choosing Mimosa Homes as you can be, and that is where our flexibility comes into play.
Flexible floor plans
You and your family are individuals, and as such you need your choice of home to be as unique as you are. All of our single story house designs are fully flexible and customizable to your needs. We all have hectic schedules and busy family lives, so why not make your home a relaxing sanctuary to escape from it all? Time spent with one of our Mimosa Homes design consultants now will help stop your dream home turning into a living nightmare!
Our vast portfolio of house and land packages can be redesigned to suit your needs long into the future. Whether you are a first home buyer, investor or planning to start a family we can tailor a home to your specific needs.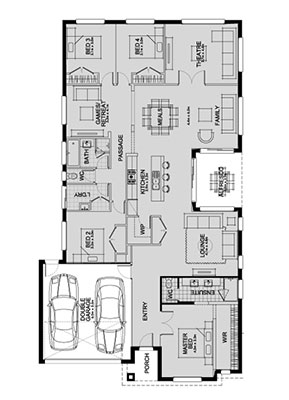 Flexible Floor Plans
Plan wisely
Our flexible floor plans give us the edge when it comes to your next home. Your floor plan needs to have a coherent 'flow', and it is widely accepted that a well-designed floor plan can add serious value to a property.
Open-plan design appears here to stay. A large living/dining/kitchen area that opens out to a wonderful alfresco area is a must-have for any current buyer. The open plan arrangement creates a sense of space and reducing closed-off rooms, as was the case in many previous generations of home design, can help bring the family together. Two zones are always good to close off though. A master bedroom with parents retreat can be a safe-haven for those parents who wish for some precious time alone with a coffee and an engrossing novel, and the other is often used as a games room or home theatre, away from the regular living room zone. An exceptional open-plan layout should create light, space and good airflow.
So if you'd like to build the best home in Melbourne, with a quality builder that will listen to your needs, contact our team at Mimosa Homes today, or visit one of our display homes. With over fifteen years of experience, a team of quality tradespeople and customer service second to none, your home is in safe hands.