One of the best ways to start planning your dream home is to look at all kinds of houses. If you explore the Mimosa Homes web site, you'll find that we try to give you as much visual information as possible about our designs so that you can find the one that is best for you and your family.
Studying Floor Plans Provides Inspiration
We have a good number of standard floor plans, and you can find details on each one by clicking on our New Homes tab. Here, you will see an exterior shot of each of our designs, along with a sign showing the number of bedrooms, baths and the size of the garage. If you see one you would like to explore further, just click on the picture and you will get all the details on that particular design, complete with a floor plan. On each page, there's also a slide show with a few interior shots.
Floor plans are a great way to imagine how your new home will function. You can only tell so much from a still picture though, so we have added video tours of some of our display homes so that you can get a better idea of the look and feel of the finished homes. You can find our video tours under the News tab.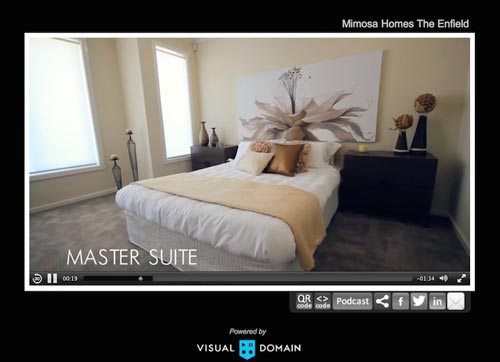 Mimosa New Home Video Walkthrough
Nothing Works Better than Feet on the Ground
Still can't visualise it? Why not come out and visit one of our display homes? We have dozens of display homes around Melbourne's Western suburbs. Click on Display Homes tab to get details of where our display homes are located, times of operation complete with a map on how to get there.
Maybe Your Ideal Home is Already Out There
Click on the House and Land Packages tab and you'll find photos, floor plans and information on the features of each home, along with the price. Because we have dozens of house and land packages, we have pages and pages of photos. Check out the bottom part of the house and land packages page, and you will see how to navigate through the homes for sale.
In case you have something very specific in mind, we have added a search feature to this section so you can search by location, number of bedrooms, price range, and even number of parking spots.
And if You Need Something to Flip Through
If you feel like you need something to keep looking through until you can decide than we have collected all our designs and incorporated them into an e-catalogue, you can flip through this 72-page catalogue virtually by selecting the EBook tab on our home page.
People thinking about buying or building a new home need to look at as many display homes as possible. This will give you ideas, so you can start to visualise the features you want in your own home. After you take a tour of our house and land packages, you might find that your ideal home could already be built and ready for you to move into, or we can customise one of our standard designs to your tastes and build it on a piece of land of your choosing.
We like to direct our customers to our video tours, display homes and house and land packages because part of our service is helping you find your dream home. The more information we give you, the more ideas you'll get for your own new, happily ever after, Mimosa Home.