Australia's weather was made for alfresco dining and, more and more, people are expecting a partially sheltered alfresco space in their new homes. Most of our standard designs include an alfresco space, and here are some ideas to make the most of this space.
First, think about how you are going to use the space. Many people use it as an area to entertain guests, but will both adults and children be using the space? Are your gatherings likely to be large or small? Will you be using it as an eating area? Consider, as well, if you will want to continue to use the space when the weather gets cooler.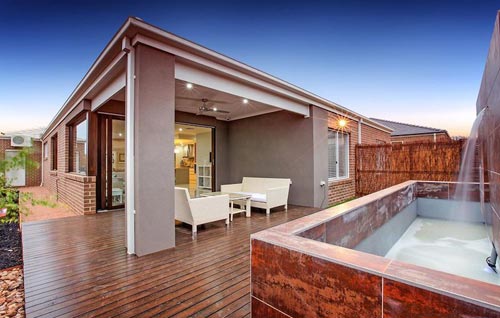 New Home Alfresco Space
Flooring options
We can certainly help with your plans to create the perfect alfresco space, and one of the most important considerations is flooring. Timber decking is a traditional choice for the floor surface, but much more elaborate flooring choices are possible. You can still use wood and come up with something quite different. Timber tiles placed over concrete can give you a different look and feel, for example. Coloured tiles or flagstones are another possibility. We have even seen artificial grass used effectively in outdoor spaces. Ask us about the options.
Built-in features
Another idea you might consider is having us install a built-in dining surface. This could be in the form of an island. Built-in seating might also be an option. Another area where we can help is with exterior rendering. At least one of your exterior walls is going to be the backdrop to your alfresco area, so it might as well be as attractive as possible. Talk to us about specialized exterior finishes for the walls of your alfresco area, or better yet, browse through this gallery to see the wide range of choices.
As outdoor spaces become more and more common, we see people using these areas like indoor spaces. This means that you may want to listen to music or watch television outside. Why not? We can assist you by adding extra electrical outlets to the alfresco room.
Use your imagination
Here's something completely different. What about a wood fireplace? There are plenty of styles to choose from, from stand-alone stove styles to traditional masonry. Open hearth fireplaces aren't a good idea inside because of ventilation issues like potential back draughting, but this is not an issue outside.
Another installed feature you may want to consider is a water fountain. Small garden fountains come in hundreds of different styles and will create a unique feel for your alfresco space. They also cool the air around them; as water elaborates, it absorbs heat.
Colour can add character to your space
Just like any other room in the house, you should take some time to think about furnishing and colour schemes in your alfresco room. Our colour consultants can help. You may also have some special artwork or other décor that you can build an outdoor design around.
Don't forget lighting! Dimmable LED lights mounted in the ground are becoming more and more popular and they look great. We can handle the installation, and there are a wide range of styles and colours to choose from. Some of these lights can transition through several colours to create that special mood.
The final touches, especially if you plan to have alfresco dining entertainment, can be table settings, flatware and dishes. Many people have a completely different set of dishes and utensils to use outside. Why not use your table settings as a contrasting colour in your colour design?
Whatever colours and finishes you choose, there's no doubt that the alfresco area in your new Mimosa home will be a great canvas for your design ideas.