Building your first home is one of the most exciting times that you will ever have the pleasure of experiencing in your life. It can also be one of the most stressful, as the sheer volume of information that you're being asked to keep track of can quickly prove to be overwhelming. It's always important to remember that certain decisions that you make early in the process will quickly prove permanent, which is why you should always think carefully about any question you're asked to answer by a developer to make sure that the end result is a home that you're actually proud to live in. When it comes to building your first home, there are a few key tips and tricks that you'll definitely want to keep in mind.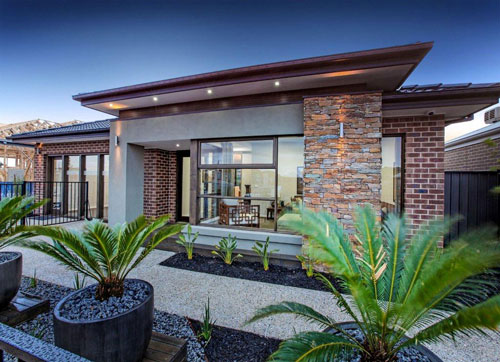 Customised House Mimosa Homes
Study Your Plans
One of the most important things that you can do when building your first home involves studying the plans that you're working from as carefully as possible. The plans are less a guideline of how the rest of the process will go and more a detailed blueprint that can give you valuable insight into where certain permanent fixtures will be located. Power points, windows and similar elements have to be in the correct place when the home is initially built because it can be very time consuming (not to mention expensive) to change them later on. If you're unhappy with something in the plans, you need to communicate your dissatisfaction to the builder as quickly as possible before it's too late.
The Colour Scheme
One area of building a home that people unfortunately don't pay enough attention to is the home's colour scheme. This goes beyond the simple selection of a primary colour for the outside of the house – you also need to think about colour in terms of roofing, bricks, guttering, downpipes and more. Colour is one of the best ways to invoke a true feeling when a person lays eyes on your home for the first time and it's also a great way to put a little bit of your own personality on display. Colouring should be carefully selected based not on the trends of today, but on a look and an emotion that will still be appealing in five, ten or even fifteen year's time.
House and Land Packages
House and land packages are an incredibly popular option for first time home builders in and around the Melbourne area. Not only do you purchase the home that you will eventually construct, but also you purchase the land where the home will be located as part of the same deal. This opens up an entire world of possibilities regarding the level of customisation that you're able to access as you build the home you've always wanted from the ground up.
A Trusted Partner
Perhaps the most important consideration of all, however, comes in the form of the company that you've chosen to work with. Unless you're planning on building your home with your own two hands, you're likely in the market for a company that will handle the design, building and similar elements on your behalf. Mimosa Homes prides itself on being incredibly easy to work with, welcoming any and all collaboration that you wish as it takes your dream home and makes it a reality in the most efficient way possible.