When it comes to building the home of your dreams in or around Melbourne's West or North, you have a few key options available to you. If buying a pre-existing home is absolutely out of the question, you can draw up your own set of custom house plans and start from scratch. The major benefit of this is that you have complete control over every element of the finished product, making sure that it exceeds your every expectation. There are also a number of potential drawbacks to this particular method, which makes house and land packages all that much more attractive. If you're in the market for a new home and you definitely want something that screams "you" as loudly as possible, there are a few important things to keep in mind.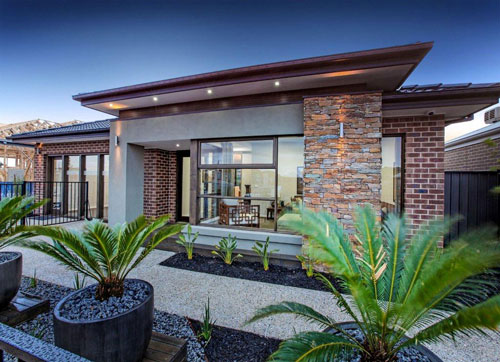 Customised House Mimosa Homes
How Custom House Plans Work
If you want to build a brand new home from the ground up, the first thing that you have to do is find your own land. Depending on the area where you live, this can be difficult, and not to mention expensive, on the best of days. Once the land is purchased, you then have to hire your own third party architect to help take your own ideas and turn them into a reality. Using this method, you may not necessarily have the ability to create your home in the way that you always intended – after all, there will be certain geographical limitations regarding the land that you've purchased to deal with.
You'll also have to secure financing for both the land and the construction of the home on your own, hire contractors to build the unit, organise trades on your own and more. Prices can fluctuate so the final price may seriously blowout from the original budget. If you're willing to put the time in, this method certainly has its fair share of advantages. If you're looking to make the process as convenient, as smooth and as cost effective as possible, the good news is that there is another way.
The Benefits of House and Land Packages
As their name suggests, house and land packages allow you to take care of both major parts of the equation – finding the right tract of land for your home and settling on a finished design – in one fell swoop. The major benefit of this technique is one of versatility – you can select the land based on the home that you're trying to create and then customize a pre-existing or unique design to meet your needs, as opposed to trying to tackle both of these issues separately.
With house and land packages, location in general is also not something that you need to worry about. Mimosa Homes offers packages in many well-developed neighbourhoods that are incredibly close to all of the local amenities that you will come to love. The process will not only be significantly easier with a house and land package, but it can also save you a large amount of money at the same time as you only have to negotiate one major purchase as opposed to two and all Mimosa Homes packages are fixed price. So no scary surprises!
If you'd like further information about the fantastic range of house and land packages available at Mimosa Homes, contact us today. Alternatively, you can go visit one of our display homes and see the quality for yourself.