We live in a strange world. People judge others by appearance all the time, yet many people seem to think that the way a house looks shouldn't matter. 'Form follows function,' the saying goes; some think all that matters is the quality of a house plan, not the home's exterior appearance.
We at Mimosa Homes love cutting edge architecture, and we commission top architects to design the houses we build, because a good architect knows how to design for both practicality and beauty. We do not build ugly, purely utilitarian houses. We believe that beautiful home designs enhance our lives and our communities.
Maximise Curb Appeal and Resale Value
In the real estate business, the appearance of a house from the street is called its curb appeal. Curb appeal enhances the resale value of a property. Even people with a purely logical, practical approach to life can appreciate a good looking house, because they know that it will hold its value better than a house that isn't so appealing. Almost everyone would rather buy a nice looking house rather than one that's not attractive-looking from the street.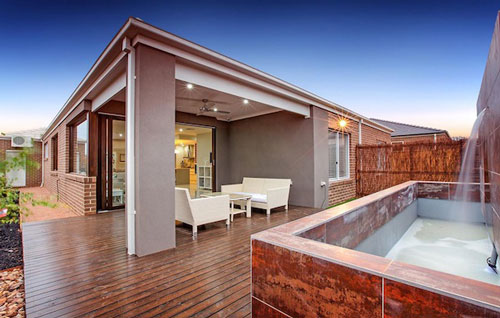 New House Design
Here's the catch, though: almost every new house looks good. Only the worst new home designs look ugly from day one. Take a look at the New Homes section of our web site. It has plenty of pictures, and you might think 'Those are nice looking houses.' (Thanks!) However, they're not just nice looking when they're new. We use top quality materials and craftsmanship to ensure that the house that looks good when you move in will still look good when you want to sell it in 10, 20 or 30 years.
Be House Proud
Of course, materials like brick, stone and real wood aren't just durable and beautiful, they also enhance the status of your home and of the neighbourhood around it. You'll be proud to show your new house to your friends, family and colleagues. They'll appreciate that you have the good taste and good judgement to buy a high quality, well designed home rather than a house that has nothing going for it except square footage. If you tell them what you paid for it, they'll be even more impressed with your good judgement; they'll think you must have had insider knowledge in order to get that kind of a deal! When you own a beautifully designed house, your whole family is proud of where they live.
Take Pleasure in Beauty
Beautiful home designs increase resale value and are good for impressing people, too. However, their greatest advantage is the pleasure that their owners derive from them. When you buy a beautiful, well designed home, you notice something about it every day. It might be the rich colours and patterns in the brick, wood and stone. It might be the subtle details of the interior finishes and the high quality of the work. Your eye might linger on a glossy bamboo floor or the natural variation in colour on a stone pier. You might enjoy the view of your lovely garden from a wood-framed window or notice the sophisticated look of the layered indoor, sheltered and outdoor spaces from a floating lounge chair in your pool.
Beautiful Home Design
Whatever beautiful detail you notice, it will make you feel good about your life and about the biggest purchase decision you've ever made. If you want to reap the advantages of high resale value, pride of place and a beautiful life, then look around our web site, visit our display homes or just give us a call.